Products
Some of the cuisines we have on our list of offers are listed below. Each of the following cuisines are made with precision by our highly professional chefs and cooks, and each of these dishes are filled with tongue tingling tastes that will for sure tingle your taste buds.
Soups
•   Veg - Tomato, Peas, Vegetable, Sweet corn, Spinach Mushroom, Coriander
•   Non-veg - Chicken clear, Chicken-sweetcorn, Chicken-coriander
Starters
•    Non-veg – Chicken Tikka/Reshmi/Hariyali kebab , Chicken pakora, Chicken Gandharaj, Chilli Chicken, Chicken gold-coin, Chicken Brownie, Prawn pakora, Fish finger (vetki), Fish Amritsari (mini), Fried Fish (Rui fish chunk), Fish Ball (Rui), Mutton Shami Kebab
•    Vegetable – Vegetable pakora, Vegetable ball, Ghat samosa, Paneer pakora, Paneer pasanda, Paneer shashlik, Dahi kebab, Hara-bhara-kebab, Cheese ball, Cheese-corn nuggets, Jalapeno corn fritters, Cheese-cherry-pineapple pick, Crispy Baby-corn, Chilli baby-corn, Mocha ball, Mushroom ball, Chilli potato, Masala Aloo,
•    Chat item – Phuchka, Papri-chat, Alu-tikia, Dahi-bada, Fried idly
Welcome Drinks
•   Hot – Espresso coffee, Masala tea, Lemon tea
•    Cold – Fresh lime soda wih sikanzi and syrup, Soft drink,  Jeera- paani. Aam-panna, Limbu paani, Water melons sarbat, Pineapple sarbat,  Mitha Lassi, Masala Chaas, Gulab sarbat, Thandai
•    Fruit – Pineapple blossom, Orange blossom, Cherry blossom, Grape juice
Mocktail – American beauty, Romantic valentine, Ginger-hurricane, Icy-spicy, Vergin mojito, Fire-on-ice, Mid-night beauty, Pink lady, Pina-colada, Margarita, Kiwi-cinderella
Salads, Raitas, Pickles
•   Salad – Green, Russian, Waldorf, Fruit, Finger, Cabbage, Mixed, Cheese, Chicken, Prawn, Egg, Tartar sauce.
•   Raita – Cucumber, Macaroni, Bundiya
•    Assorted – Sprouted beans, Onion-ginger soaked in vinegar
•   Pickle – Mixed, Hot chili, Lemon, Mango, Pudina
Cereal (Flour & Atta) Preparations
•    Basic – Luchi, Maha-luchi, Naanpuri, Batora
•    Stuffed – Kachuri, Radhaballavi, Dalpuri,
•    Tandoor item – Baby butter naan, Masala kulcha, Hyderabadi Naan
•    Roti – Roomali , Tandoori, Tawa
•    Paratha – Plain, Alu, Lachcha, Pudina, Methi
Dal Preparations
•    Mungdal with – Coconut, Peas, Fish head, Cauliflower, Mung-mohan, Murighanta
•    Others – Choladal, Dhoka dalna, Ghoogney matar, Kabuli chole, Rajma, Arhardal, Musurdal
•    Special – Dal-makhani, Dal-pancharatan, Kali-dal, Tarka-dal, Curry pata dal, Kabuli chole with mutton keema.
Rice Preparations
•    Light – Steamed rice, Jeera rice, Lemon rice, Herbed rice, Peas rice
•    Fried – Vegetable fried rice, Vegetable biriyani, Mixed fried rice, Chicken fried rice
•    Pulao – Basanti Pulao, Peas Pulao, Ghee bhat, Pineapple Pulao, Orange Pulao, Kashmiri Pulao, Jaffran Pulao, Vegetable Pulao, Fish Pulao, Prawn Pulao, Moti (mutton keema) Pulao, Yakhni Pulao
Vegetable Preparations
•   Alurdam – Kashmiri, Masala, Chilli, Achari,
•   Stuffed Aludam – Green Peas, Vegetable, Paneer, Fish, Mutton keema
•    Others – Alu-kumro-parwal chakka, Alu-cabbage-peas chakka, Alu-Capsicum-tomato, Alu-gobi-peas chakka, Cauliflower roast, Enchor korma, Parwal malai curry, Dahi-parwal, Mocha ghanta, Mocha pathuri
•   Bengali taste - Sukto, Shaag ghanta, Chanchra, Labra, Chachari, Alu-posto, Jhinge-posto
•    Kofta curry – Green banana, Veg-Malai, Cabbage, Enchor
•    Indian taste – Mixed vegetable, Vegetable jal-frezji, Navaratan curry, Bhindi masala, Vegetable Manchurian, Mushroom curry
•    Baked dish – Veg-au-gratin, Broccoli, Paneer, Mushroom, Pasta
•    Fried – Potato julienne, French fries, Beguni, Assorted vegetable
Dry Vegetable Preparations
•    Assorted – Chop, Cutlet, Pakora, Tikia
•    Stuffed – Capsicum, Tomato, Parwal – with Dal, Coconut, Vegetable, Chana
•    Moocha, Enchor, Cabbage – Chop, Cutlet, Roll
•    Binana Kachuri – Mushroom, Casein[chana], Mixed vegetable
Milk Product Preparations
•    Paneer – Butter masala, Shahi-korma, Matar, Chili, Palak, Capsicum, Tandoori, Breadcrumb fry, Batter fry, Paseenda, Pathuri
•    Casein [Chhana] – Kofta curry, Kalia, Basanti, Cutlet, Bhapa
Vetki Fish Preparations
•    Fried – English fry, Orley, Amritsari, Tawa, Varadaa, Paseenda, Dhania, Punjabi, Roll, Kabiraji, Finger
•    Varieties – Tandoori, Pathuri, Chili, Sweet-and-sour
•    Masala type – Masala, Chaap, Tomato fish
•    Continental – Baked, Mayonnaise, Ala-kiev, Florentine. Meuniere, Grilled.
Prawn Preparations
•    Fried – Prawn Cutlet, Golden fried prawn, Tandoori, Ball
•    Gravy – Malai-curry, Kalia, Korma
•    Shrimp – Mocha-chingri, Enchor-chingri, Alu-posto-chingri, Lau-chingri, Capsicum-chingri, Chingri-bhapa, Chingri-paturi
•    Continental – Mayonnaise, Cocktail, Baked
Lobster Preparations
•   Gravy – Malaicurry, Kalia
•   Dry – China Kebab, Thermidor
Hilsa Preparations
•   Dry – Bhaja, Pathuri, Smoked
•   Gravy – Bhapa, Jhol, Taak, Dahi, Jhal
Rohu Preparations
•   Fried – Bhaja, Chop, Tandoori, Cake, Binani Kachuri
•   Gravy – Kalia, Korma, Masala, Tomato, Mouli, Dahi, Dahi-sarisha, Pepper, Rezalla, Dopiyanja, Dampokta, Roast, Jhal
Other Fish Preparations
•   Fried – Topsey batter, Parshe, Pomphret, Vetki
•   Gravy - Pabda, Parshe, Bata, Tangra, Koi, Chital petty, Chital Muitha, Pomphret
Mutton Preparations
•   Gravy – Curry, Korma, Kasha, Rogan josh, Do-piyanja, Dak- bungla, Handi kebab masala, Rezalla, Kadai masala, Chaap, Keema, curry, Keema matar, Kofta curry, Nargis Kofta
•   Tandoor - Tikia kebab, Sheek-kebab, Bara-kebab
•   Fried – Chop, Cutlet, Shami-kebab, , Breast-cutlet, Rib-cutlet, Chili, Kabiraji, Singara,
•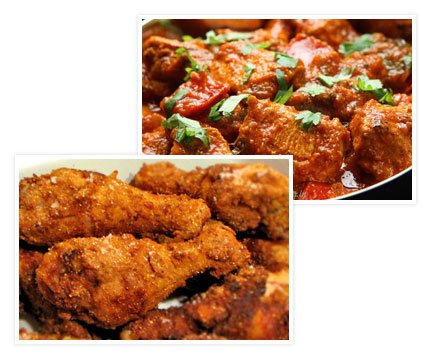 Continental - Roast, Stew
Chicken Preparations
•   Gravy – Curry, Korma, Kasha, Do-piyanja, Paturi, Bhapa, Rezalla, Chaap, Moglai, Plain masala,  Butter masala, Shahi Korma, Afghani, Lababdar
•   Tandoor – Reshmi / Tikka / Hariyali kebab, Tandoori, Tengri kebab.
•   Continental – A-la-kiev, Roast, Mayonnaise, Stew, Grilled
•   Fried – Fried chicken, Fowl cutlet, Keema cutlet, Chop, Chilli, Kabiraji.
Chutneys & Papads
•   Chutney – Dry fruit, Fresh fruit, Plastic, Jalpai, Tomato, Green mango, Pineapple, Grape, Apple, Lau, Aam-ambal, Rasagolla
•   Papad - Plain, Masala, Alu, Sabudana, Sabu, Roasted
Chutneys & Papads
•   Chutney – Dry fruit, Fresh fruit, Plastic, Jalpai, Tomato, Green mango, Pineapple, Grape, Apple, Lau, Aam-ambal, Rasagolla
•   Papad Plain, Masala, Alu, Sabudana, Sabu, Roasted
Desserts
•   Bengali taste - Payes, Chhana payes, Chandani Kheer, Rabri, Makha sandesh, Rasamalai, Rasamundi payes
•   Hot item – Golab jamun, Jilabi, Malpoa, Baked rasagolla, Baked mihidana
•   Sandesh – Natun gur, Ice-cream, Rose-cream, Chocolate, Butterscotch, Dilkhush, Paradise
•   Ice-cream – Vanilla with sauce / sponge / flake / beads / brownie, nuts topping, Fruit cocktail, Parlour with varieties
Pans
•   Ready  / Stall  - Plain, Mitha, Tabak, Benarasi, Jarda