Products
Some of the cuisines we have on our list of offers are listed below. Each of the following cuisines are made with precision by our highly professional chefs and cooks, and each of these dishes are filled with tongue tingling tastes that will for sure tingle your taste buds.
Soup
•   Veg - Tomato, Peas, Vegetable, Sweet corn, Spinach, Mushroom, Coriander
•   Non-veg - Chicken clear, Chicken-Sweetcorn, Chicken-coriander
Starter
•   Non-veg – Murg Tikka/Reshmi/Hariyali, Murg Lasooni Kebab, Murg Pyare Kebab, Chicken Lollipop, Chicken Fried Gandharaj, Chilli Chicken, Pepper Chicken, Chicken-on -Toast, Chicken Pop-corn, Chicken Wanton (Fried), Shrimp Popcorn, Shrimp Keema Ball, Prawn-on-Toast, Fish finger (Bhetki), Fish Amritsari (Bhetki), Fried Fish (Rui fish chunk), Fish Ball / Cutlet (Rui), Mutton Shami Kebab, Mutton Galawati Kebab, Mutton Boti Kebab
•   Vegetable –Vegetable Pakora / Cutlet, Green Peas Chop, Mocha Chop, Baby Samosa, Hara-Bhara Kebab, Sabudana Vada, Pepper Garlic Paneer, Paneer Pasanda, Paneer Shashlik, Cheese-Corn Nuggets, Jalapeno Cheese-Corn Fritters, Cheese-Cherry-Pineapple pick, Crispy Baby-corn, Chilli baby-corn, Chilli Corn Croquets, Mushroom ball, Veg Spring Roll, Veg Fried Wanton
•   Chat item –Paani Puri, Dahi-Phuchka, Papri-Chat, Aloo-Tikia, Dahi-Vada, Fried Idly
Welcome Drink
•   Hot –Espresso coffee, Masala tea, Lemon tea
•   Cold –Fresh lime soda with Sikanzi and syrup, Soft drink,  Jeera-Paani. Aam-Panna, Nimbu Paani, Tarbooz ka Sharbat, Pineapple Sarbat, Gandharaj Lassi, Masala Chaas, Keshar Badam Sharbat
•   Fruit –Pineapple blossom, Orange blossom, Cherry blossom, Grape juice
•   Mocktail –American Beauty, Romantic, Ginger Hurricane, Icy-Spicy, Virgin Mojito, Fire-on-ice, Mid-Night beauty, Pink Lady, Blue Lagoon, Pina-Colada, Margarita, Kiwi-Cinderella
Salad, Raita, Pickle
•   Salad - Green, Russian, Waldorf, Fruit, Vegetable Coleslaw, Chicken Coleslaw, Prawn Mayonnaise, Tartar sauce.
•   Raita – Cucumber, Macaroni, Boondi, Mixed Fruit, Burhani,
•   Assorted - Sprouted beans, Onion-ginger soaked in vinegar
•   Pickle - Mixed, Hot chili, Lemon, Mango, Pudina
Cereal (Whole Wheat Flour - Maida & Wheat Flour - Atta) Preparation
•   Basic - Luchi, Poori, Maha-Luchi, Naan Puri
•   Stuffed - Hinger Kachuri, Green Peas Kachuri, Radhaballavi, Dalpuri
•   Tandoor - Baby Butter Naan, Masala Kulcha, Hyderabad Naan
•   Roti – Roomali, Tandoori, Tawa, Dinner Roll, Garlic Bread
•   Paratha - Plain, Lachha, Aloo, Pudina, Methi
Pulses Preparation
•   Mungdal with – Vegetables, Coconut, Peas, Fish head, Cauliflower           
•   Others - Choladal, Arhardal, Masoordal, Biulidal, Dhoka Dalna, Ghugni Matar, Kabuli Chole, Rajma Curry,
•   Special - Mungmohan, Dal-Makhani, Dal-Pancharatan, Kali-dal, Dal Bukhara, Mutton Keema Chana / Matar
Rice Preparation
•   Light - Steamed Rice, Jeera Rice, Butter Almond Rice, Lemon Rice, Herbed Rice, Peas Rice
•   Special - Mutton Biryani, Chicken Biryani, Prawn Biryani, Vegetable Biryani, Vegetable Fried Rice, Mixed Fried Rice
•   Pulao - Basanti Pulao, Peas Pulao, Ghee Bhat, Dum Pulao, Pineapple Pulao, Orange Pulao, Kashmiri Pulao, Zaffran Pulao, Vegetable Pulao, Morich Pulao, Yakhnee Pulao, Fish Pulao, Prawn Pulao, Moti (Mutton Keema) Pulao,
Vegetable Preparation
•   Aloo-dum – Kashmiri, Masala, Chilli, Achari, Methi
•   Stuffed Aloo – Green Peas, Vegetable, Paneer, Fish, Mutton Keema
•   Others - Kumro Chakka, Paneer-Corn-Capsicum, Shim Begun Jhal, Aloo-Phoolkofi Dalna, Cauliflower Roast, Enchar Korma, Enchar Bati-chachari, Parwal Malai curry, Dahi-Parwal, Mocha Ghanta, Mocha Paturi, Phoolkofi Paturi
•   Bengali taste - Sukto, Shaag Ghanta, Chanchra, Labra, Parwal-Posto, Jhinge-Posto, Aloo-Posto, Begun Basanti, Begun Rai Roast
•   Kofta curry – Green banana, Veg-Malai, Enchar, Green Peas Dhoka Dalna
•   Indian taste - Vegetable Jalfrezi, Nav-ratan Korma, Makai Palak, Bhindi Masala, Tawa Sabzi, Mushroom-Broccoli-Corn stir fry
•   Baked dish - Veg au gratin, Broccoli, Paneer, Mushroom
•   Fried – Narkel-Posto Bara, Potato julienne, Finger Chips, Besan Fried – Begun, Kumro, Phoolkofi, Assorted vegetable
Dry Vegetable Preparation (as side dish)
•   Assorted – Mocha, Enchar, Cabbage, Vegetable – Chop, Cutlet, Roll, Tikia
•   Stuffed – Parwal (Dolma), Capsicum, Tomato, – with Dal, Coconut, Vegetable, Chhana & Khoa / Cheese / Sweet Corn
•   Binuni Kachuri – Mushroom, Phoolkofi, Green Peas, Chhana, Sweet Corn
Milk Product Preparation
•   Paneer  – Butter masala, Nimbu Hari Mirch, Shahi-Korma, Palak, Malai Kofta, Methi Malai, Chili, Paturi, Capsicum, Tandoori, Breadcrumb fry, Batter fry, Pasanda,
•   Chhana – Kofta curry, Kalia, Basanti, Cutlet, Bhapa
Bhetki Fish Preparation
•   Fried – English fry, Orly, Amritsari, Roll, Kabiraji, Meunière, Punjabi, Finger, Tawa, Pasanda, Dhania
•   Varieties - Tandoori, Malai Kebab, Lau Pata Paturi, Chili, Sweet-sour
•   Gravy – Masala, Chaap, Tomato fish
•   Continental - Baked, Grilled, Florentine, Mayonnaise, A la Kiev
Prawn Preparation
•   Fried – Prawn Cutlet, Golden fried prawn, Tandoori,
•   Gravy – Malai-curry, Kalia, Korma, Daab-Chingri
•   Shrimp – Mocha-Chingri, Enchar-Chingri, Aloo-Posto-Chingri, Lau-Chingri, Capsicum-Chingri, Chingri-Bhapa, Chingri-Paturi
•   Continental – Baked, Mayonnaise, Cocktail
Lobster Preparation
•   Dry – China Kebab, Thermidor
•   Gravy – Malaicurry, Headless Korma
Hilsa Preparation
•   Dry – Bhaja, Paturi, Smoked
•   Gravy – Sarisha Bhapa, Jeera Jhol, Tok, Dahi, Sarisha Jhal
Rui Preparation
•   Fried – Bhaja, Chop, Tandoori, Cake, Binuni Kachuri
•   Gravy – Kalia, Korma, Tilottama, Kamala, Jhol, Masala, Tomato, Mouli, Dahi, Dahi-Sarisha, Marich, Rezalla, Dopiaza, Dampokta, Roast, Jhal, Methi, Muri Ghanta, Kofta Kalia
Other Fish Preparation
•   Fried/Tandoori –Topsey, Parshe, Pomfret, Mourala
•   Gravy - Pabdah, Parshe, Bata, Tangra, Koi, Pomfret, Chital petty, Chital Muithya
Mutton Preparation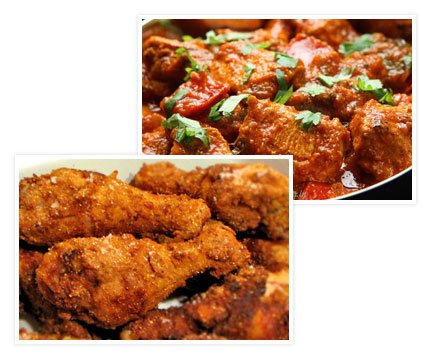 •   Fried – Galawati kebab, Kakori Kebab, Shami-kebab, Breast Cutlet, Kabiraji Cutlet, Rib Cutlet, Chili, Singara,
•   Gravy – Curry, Korma, Kasha, Kala Masala, Rogan josh, Chaap, Do-Piazza, Rezalla, Dak-Bangla, Rara, Kadai masala, Handi Kebab, Kashmiri Gushtaba, Keema Matar
•   Tandoor - Sheik Kebab, Bara Kebab, Boti Kebab
•   Continental - Slice Brown Roast
Chicken Preparation
•   Fried – Fried Chicken, Breast Cutlet, Kabiraji Keema Cutlet, A la Kiev, Chilli, Manchurian, Paturi
•   Gravy – Nimbu Hari Mirch, Korma, Kasha, Do-Piazza, Bharta, Rezalla, Chaap, Methi, Butter masala, Bhapa, Lababdar, Shahi Korma, Afghani, Creamy Lababdar
•   Tandoor – Reshmi / Tikka / Hariyali kebab, Tandoori, Kalmi kebab, Pyare Kebab
•   Continental – Tetrazzini, Slice Brown Roast, Mayonnaise, Stew, Grilled
Chutney & Papad
•   Chutney – Dry fruit, Fresh fruit, Plastic, Jalpai, Tomato, Green mango, Pineapple, Grape, Apple, Lau, Aam-Ambal, Rasagolla
•   Papad - Dal – Plain & Masala, Aloo, Sabudana, Roasted
Dessert
•   Bengali taste - Payes, Chhana Payes, Chandani Kheer, Rabri, Makha Sandesh, Ras-malai, Rasamundi Payes, Keshar Kulfi
•   Hot item - Gulab Jamun, Keshar Jilabi, Malpua with Kheer toppings, Baked Rasagolla, Baked Mihidana, Patishapta
•   Traditional – Gurer Jalbhara, Mousumi, Chilled Rose-cream, Parijat, Dilkhush, Paradise, Manohara, Chocolate, Butterscotch,
•   Ice-cream – Vanilla with Sauce, Chocolate Brownie / Nuts topping, Fruit Cocktail, Parlor with varieties, Keshar Kulfi, Gurer Kulfi, Aam Kulfi, Caramel Custard
Pans
•   Ready  / Stall  - Plain, Mitha, Tabak, Banarasi